The ReactaVisc is a research grade device for the continuous real-time measurement of viscosity in reaction vessels. The narrow bodied enclosure takes up minimal space at the top of the vessel, leaving plenty of room for other equipment such as stirrers or condensers.
Video: The ReactaVisc in action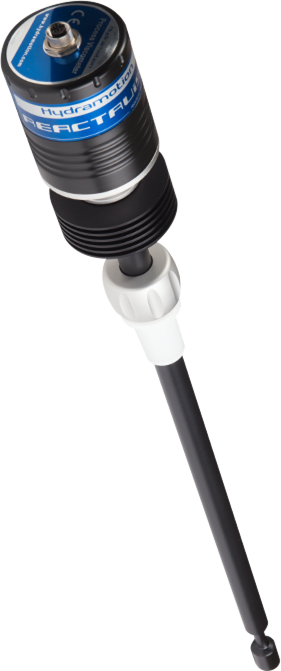 The ReactaVisc maintains accuracy under all reaction conditions and is designed to fit easily among the often overcrowded array of devices on these vessels. It can also be easily adjusted to suit varying fluid depths using Hydramotion's special HydraGland™ vessel adapter. The result is a supremely versatile viscometer that's ideally suited to the reaction vessel environment.
It's unique to Hydramotion, there's nothing else like it. Users deploy ReactaViscs in a wide range of applications from lab trials to industrial R&D to drug production. They describe the ReactaVisc in many ways, but mostly they call it 'invaluable'.
Calibration is not affected by either vessel type or fluid conditions, so the viscometer can be used with certainty in a wide range of applications.
The right choice of materials and the non-contaminating structure of the sensor ensure the ReactaVisc remains an aseptic and inert presence in the fluid. Furthermore, since the sensing tip makes only microscopic movements any energy contribution to the reaction is negligible.
The accompanying display unit provides analog and digital outputs for data logging or remote monitoring. If hooked up to a suitable temperature sensor, temperature corrected viscosity can also be calculated.
Typical applications include viscosity monitoring during polymerization or esterification reactions, for example in a research project or as part of a small-scale production facility.
Viscosity can be measured for almost any Newtonian fluids whether they are moving or at rest.  In addition, the ReactaVisc is ideal for most non-Newtonian fluids because its high shear rate results in highly repeatable measurements that aren't affected by flow rate changes.
Manufacturer: Hydramotion
Model Number: RV3
Data sheet: ReactaVisc Description (PDF)
We would be glad to assist you and answer any questions you may have! Please use the Contact page or contact us at sales@nelsontech.com or call us at (530) 272-7956